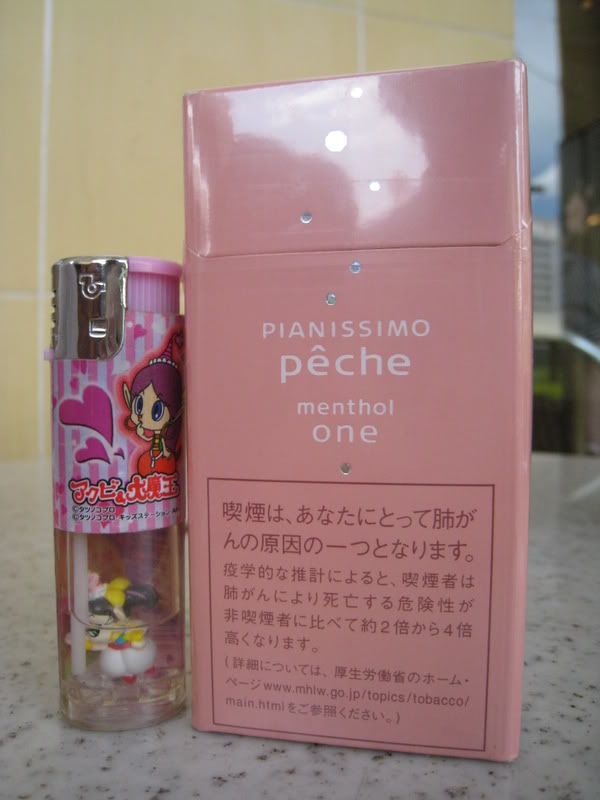 Pianissimo Pêche
all the way straight from Japan, courtesy of Rachel! Who, by the way, had to go to so much trouble to get it for me. Ever since Japan introduced the new ID verification system on certain
vending machines
, tourists or visitors haven't been unable to buy anything from these machines without a proper
taspo
card. (The horrors, right?) So, Rachel had to scour supermarkets that were selling pêche by the pack and not by the carton, all the while trying to navigate her way through with only a handful of Japanese phrases. That's real dedication!
Well, the accompanying (and very fitting) lighter is also Rachel's, from Japan. The Japanese really come up with the craziest stuff! There's actually a little mini figurine floating about inside the lighter fluid. How ingenious is that. Well unfortunately I finished the pêche in a day and a half. Gone all too quickly!
Last Sunday I went to catch
Babylon A.D.
with Rachel and Cindy.
Michelle Yeoh
was in it and boy, was her character an exact mimic of her character in her previous movie,
The Mummy: Tomb of the Dragon Emperor
. In both movies, she plays a mother/mentor figure to a girl who, from young, has been destined for great things or endowed with great powers. She then accompanies this girl through a series of adventures where both of them discover themselves and grow closer, only to have them bitterly separated through Michelle Yeoh's premature death towards the end. In her dying moments, her character will then whisper to the girl's love interest or to the protagonist, asking him to take good care of the girl when she's gone.
If you've watched both movies, you'll know exactly what I'm talking about. I just find it amusing how, for both back-to-back movies which she starred in, her characters could have so many uncanny similarities. Still, despite all these stereotypes, it's good to see a prominent and talented south-east asian actress like her getting some good screen time in
Hollywood
, through hard work and proper acting talent. Definitely beats the skin-deep character that
Fann Wong
played in
Shanghai Knights
, which I thought was quite dreadful to watch. In Hong Kong, the
South China Morning Post
actually stated that she "seems set to displace
Lucy Liu
as Hollywood's Asian babe du jour". What utter rubbish!