Haven't being doing much over the last few days; have been mostly sitting around at home playing
Tales of Vesperia
, meeting friends for dinner and drinks and stressing out about my visa. It's quite funny actually, I've been meeting friends thinking that it's going to be the last time we'll see each other for some time, only to meet again for another round of drinks or whatnot. I guess I'm not fated to say farewell for now.
Just checked this morning, my visa is still not ready. And oh, guessed what. Remember how I complained that their visa tracking isn't really tracking because all it tells you is whether it's ready or not? Well, I guess
VFS
read my last blog post about that, because they put in an additional message for me when I went to "track" my visa application. It now says,
"Your application is still being processed. Please avoid calling/emailing the Application Centre or the High Commission for an update. The website will be updated as soon as the documents are ready for collection. Your visa application has been forwarded to the British High Commission."
Usually what I get is simply just the last sentence, but I guess they've recognized me by now, going how I've been calling them everyday. But hey, it's for good reason! I didn't pay $267 in visa application fees only for them to doodle around and take their own sweet time. Such f**kers they are! Once I finally get my visa I'm going to submit a very heavy-handed complaint to VFS.
I spent the entire day yesterday playing
Tales of Vesperia
(it's really addictive!), and only stopped to meet Yiling and Lingna for dinner. I sympathize with those two, twice have they prepared themselves to go to the airport after work to send me off, only for me to ruin their plans at the very last minute! Still, we thought since we were all free anyway we decided to have dinner at
Causeway Point
.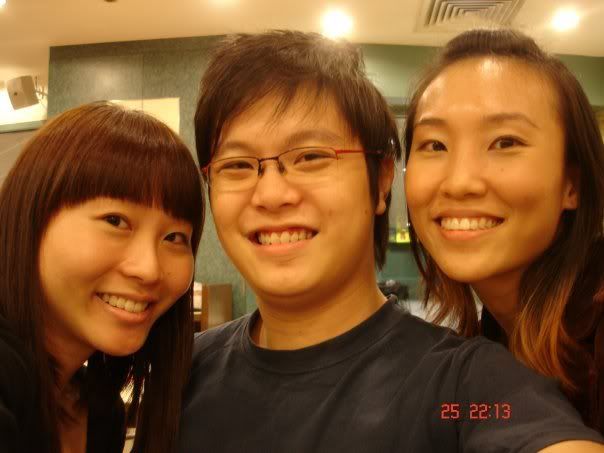 Cam-whoring after dinner.
I met up with Pin-Ji again a couple days back for another "farewell dinner" (a common tale of late). We were talking about arthouse films, specifically
Boy A
, and how difficult it is sometimes to get someone to watch an arthouse film together. Then, out of some burst of sudden spontaneity, we decided to just go "mainstream" and go catch
Bangkok Dangerous
! (Of all the worst movies one could watch, right?)
So we went to the box office at Shaw, only to be sidetracked by another movie which we went for in the end. The movie was titled
Step Brothers
, and I went into the movie theatre having absolutely no idea what to expect. Well, it turned out to be an immensely funny flick, with
Will Ferrell
being his usual obnoxious self to the utmost degree! I'm sure those who watched it will agree what a gut-wrenching moment it was during the scene where Will Ferrell's character took out a certain anatomy of his and started rubbing it on the drum set. (Yes, you read correctly: drum set!)
Well, I guess it's back to mucking around at home, trying not to spend more money when I've already stopped working. That means planting myself in front of my
Xbox 360
and TV in hopes of trying to distract myself from thinking about the damn visa. Oh man, enough of this shit already!