Alright, before I even start on anything, here's a video clip which I chanced upon while browsing through Charles'
blog
. This is absolutely hilarious and a definite must-see. Now I know why I love the Japanese so much -- it has to be their unbeatable crazy antics! Well, chocolate-flavoured bananas, anyone? Heh.
Went down to
Zouk
on Friday night for a wee bit of partying. Haven't been to Zouk for quite awhile now (Winebar doesn't count!), so it was good to revisit that place a bit before I head off to London. Met up with Huishi and her friend, Shakun and had a couple drinks at Winebar before heading into Zouk for some
Agnelli & Nelson
. We weren't there specifically for them, they just happened to be spinning that night. Pretty good stuff though, I do quite like their brand of trance.
Huishi had a bit too many hotdogs from the hotdog stand though, so by the time Vanessa joined us (with her newly-found pal from Nethearlands!), she couldn't stay long enough to finish the bottle of
G.H. Mumm
before she had to head home and slowly digest all those hotdogs and mash! Well, nothing like some official F1 champagne to get into the F1 mood, I suppose.
Saturday night was spent at Holland V with dear April and best buddy Vyomar, along with Carol and Eftoni. Most of the night was spent at
2am: dessertbar
, with the bunch of us wolfing down a chocolate tart, a twix and bottles of fruit beer faster than you could say "fat hips". Janice was very nice and hospitable and even gave us a free scoop of sorbet while we were still sitting by the bar, before heading over to the plush cushions. April fished out her camera and I took a couple "beer shots" for good measure.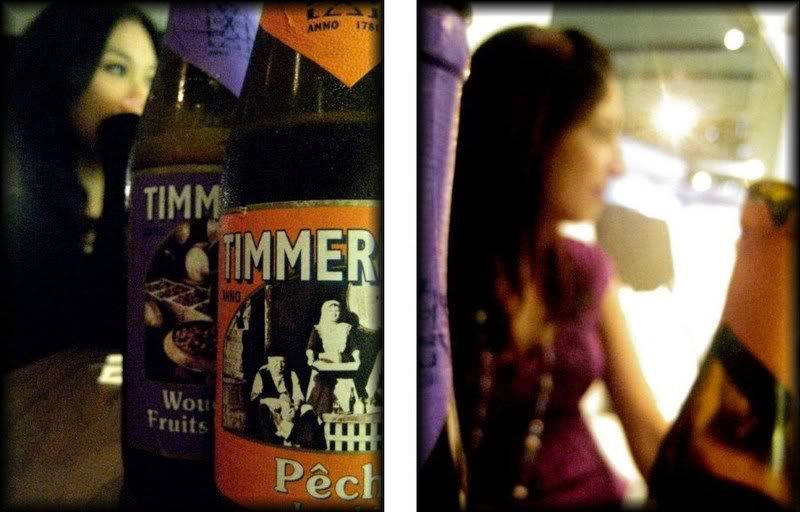 The Timmermans were just simply heavenly!
It was a really great chilled out night, peppered with moments of remembering old acquaintances (aka bitching), updating each other on the latest ongoings (aka gossiping) and picture-taking (aka cam-whoring). Pretty much unavoidable, really! Definitely a great way to spend your weekend evening though, I must say. More to come, I hope!