Finally, I'm here, halfway across the globe in the world's dreariest city --
London
. Yup, as you can tell, I'm not as half as excited to be here. If not for the fact that the
only
thing I'm looking forward to is my course. It's been drizzling non-stop for most of the first day I've been here, starting from the moment I exited
Paddington
station.
I went down to
Guildhall
today for enrollment but hardly got things done. Like everything else around here, administration for whatever setting (banks, schools, even the police) is unbelievably slow and I can only be fully enrolled by tomorrow. I just received my school timetable in my email and took a careful look at it. It's quite relaxed, with compulsory sessions taking place only once or twice a week, with the remaining projects listed as optional. Well, it is a postgraduate course after all.
Still feeling a tad jet lagged, as how I always do on the first day of getting off the plane. I had to re-pack at the airport due to overweight baggage, and as a result I was the last passenger to check-in for the flight. And because of that, I got assigned the worst seat imaginable. On my right was this big-sized guy who was so big he couldn't even use his tray table, and on my left was a noisy albeit cute toddler girl. The horrors!
Alright, I gotta catch some shut-eye soon. Hopefully I'll have a few more positive things to scribble about over the next couple days. Miss you all in Singapore. Homesickness is a little more prevalent than I expect!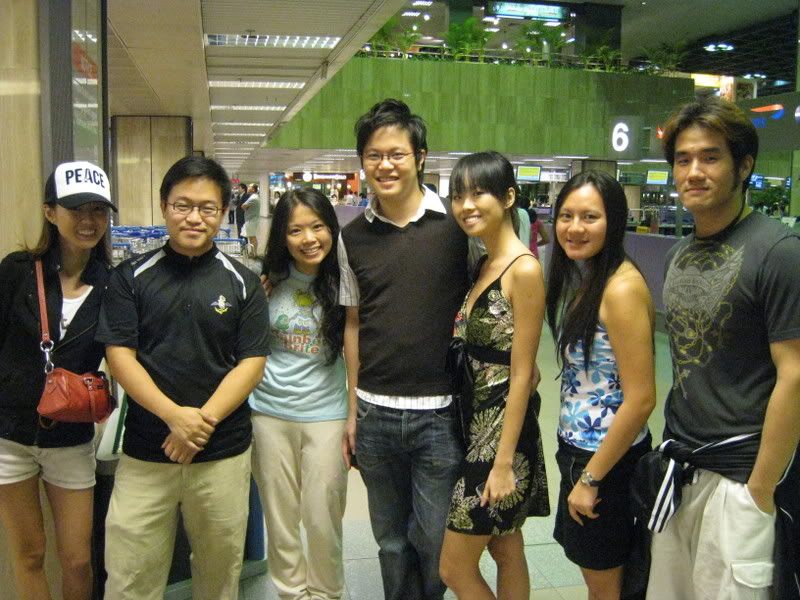 The send-off gang at Changi Airport. Thanks you all!
Oh, and a big thank-you to my very sweet friends who took time to show up at the airport to send me off to London. I know I've changed my flight umpteen times but you guys were still so patient over the entire week to really wait until my real flight took place! Especially Juliet, thanks so much for rushing down after work and say goodbye over a mere five minutes. I really appreciate it!