And so, here we are. The 23rd of July, almost coming to the end of the month now. How time flies! It's 1:35am as I'm typing this and I'm feeling as ravenous as an alligator on a diet. Today was the second (and last) day of the
Les Chansons Français
show that I did at the Esplanade, together with
Bevlyn
and Jonathan Lim, as part of Esplanade's
Jazz in July
series.
All in all, it was a fantastic show and both nights went very smoothly and enjoyably. For tonight's show, Bevlyn's friend Jason came down and took a couple of pretty sweet photos of us; I'm looking forward to seeing those! Well, admittedly, some of the shots of me were posed, but then again I never look good when I'm onstage so I think some necessary measures have to be put in place!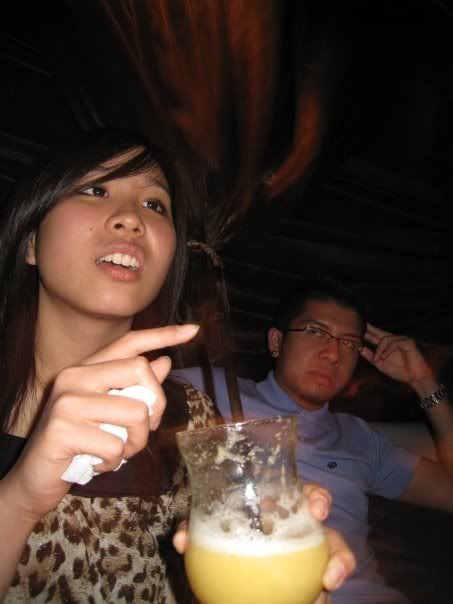 The week has been quite a blur, but I suppose that's always good when you're feeling aimless at times. Last night I met up with Monji (so glad she's back!) and some of my other friends from UK like Ping and Edward for drinks, first at IndoChine then at Balcony. As usual, all of us had a ball drinking up and making plenty of fun of Monji (did I hear someone say horse?)! As you can see on your left, Monji sometimes makes the most excellent faces, spurred on by Ping's never-ending enthusiasm.
That aside, I've had quite a ball of a weekend as well. I had two wedding gigs at Sentosa over last weekend, so I booked a room at
Amara Sanctuary Resort Sentosa
for one night and had a sleepover of sorts. Well, in the end it was down to five of us men in one room, so you it was pretty much like back to the BMT days. Nonetheless, we had a great time and Tat and I actually managed to continually drink for 9 hours!
I also met my cousin Karen the next day at the other wedding; she and her hubby were back from NZ to attend their friend's wedding, who was the groom. It was indeed great to see her again -- she's just about the only cousin that I can still say I'm pretty close to.
Oh, I've also managed to put in some nice bonding time with my
PS3
over the last week with the game
Uncharted: Drake's Fortune
, which I borrowed from Albert. It's a farily short game, but it didn't fail to impress thoroughly with it's mindblowing graphics, addictive gameplay and dramatic score. The
VA
for the game was also excellent, mainly becuase the voice actors also did the motion capture themselves, providing for seamless blending of motion and voice.
Tomorrow it's actually back to Sentosa, for the MINDEF Volunteers' Dinner. Kewei & Co. actually got hired (by SAF, of course) to perform at that event. This will make it my 3rd MINDEF Volunteers' Dinner show, with the first two with MDC. Talk about never being able to run away!