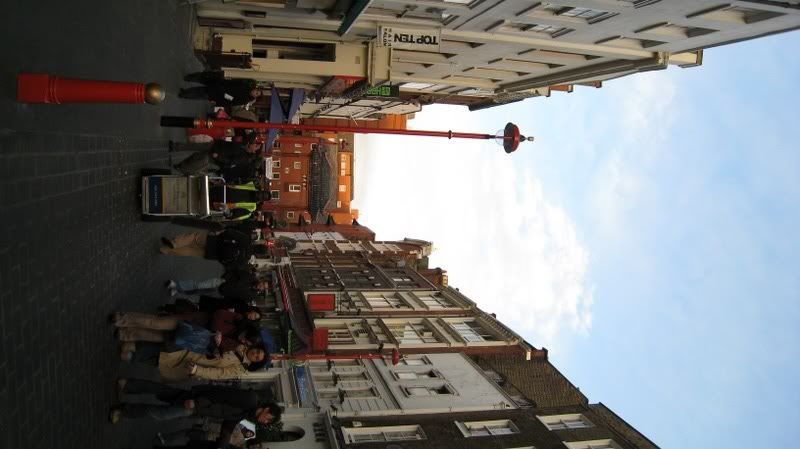 Shops ahoy! That's right, shopping, shopping and more shopping. To say the very least, I quite enjoy shopping. I've been going rather misty-eyed as of late, eyeing plenty of chic winter fashion items that are just
everywhere
: Zara,
Urban Outfitters
, GAP,
muji
, and the list goes on.
And to kick it off, I bought an awesome mandarin collar long blazer from Zara. Ok, it's rather thin so it rather defeats the purpose for keeping warm, but hey at least I can still use it in Singapore. That, however, set me back by £119. Ouch. I've been looking around to get a local number soon, since I'm going to use plenty of it next year anyway. So yeah, I'll put up my UK number as soon as I get one.
Met Monji for lunch yesterday at this speciality roast duck restaurant down at Chinatown (right) called Four Seasons (image
here
). And fantastic duck, it was! I tried some hot and sour soup as well, and we ordered some really kick-ass kailan. Lunch was a slow, relaxed affair; we spent slightly more than two hours in the restaurant!
After that, we went walking around Leicester Square and
Covent Garden
, popping into many one of the alluring boutique shops to check out for more clothes to buy. Never enough, I say! At the same time, we tried looking for discount tickets for whatever musical we could watch later in the night.
Covent Garden market was every bit pretty and beautiful as I've heard it to be. Snaking alleyways leading to shops, punctuated by numerous small plazas occupied by buskers make up most of Covent Garden market. Not to forget the glorious glass roof interior! Monji brought me to this quaint cookie place (image here) to try out her favorite 
Ben's Cookies
: crispy on the out side, chewy on the inside! They have a logo that looks like a sketch out of a
Roald Dahl
book.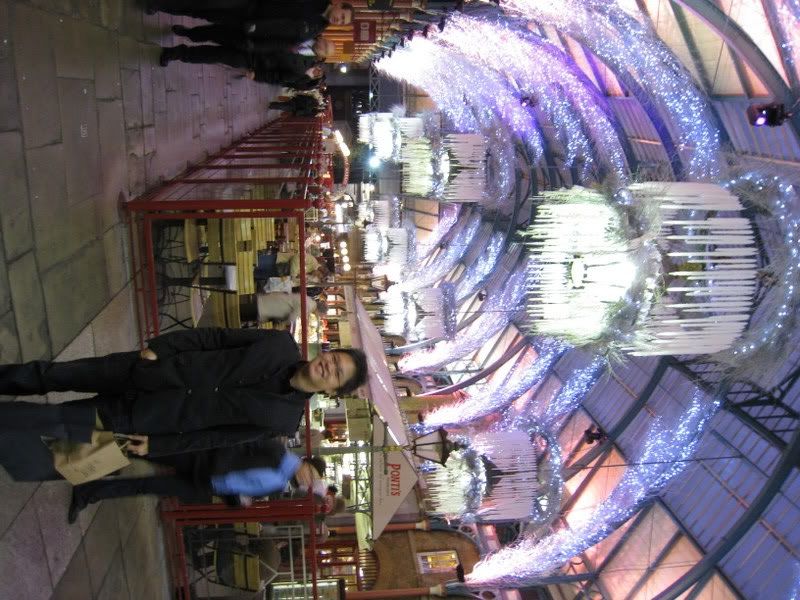 Monji and I then went to get our discount tickets from this (apparently reputable) discount shop at
Leicester Square
tube station, where we managed to snag Sound of Music tickets for an affordable £35 each.
Shortly after, we met up with Daph, Foi and Patrick for dinner. It was back to Chinatown for dinner, this time however we went to this Korean place. Monji and Foi got abit mad with the
soju
, so it didn't take much time trying to convince them to do a cross toast (see picture below).
After dinner we headed down to the
London Palladium
to catch The Sound of Music, my first ever West End musical! And boy, was I duly impressed. The opening chorus of Preludium during the opening scene at the Nonberg Abbey already took my breath away. Never had a seen such an impeccable chorus of singing nuns!
The instantly-likable character of Maria Rainer was terrifically played, and the von Trapp children were even more amazing. Orchestrations for the numbers were crisp and effective, and each cast member's singing including the ensemble and swings were crystal clear. What's really amazing was the set design though; set changes were clockwork accurate, seamless and exceptionally smooth. Adding on to a superbly-design set, it provided for much visual entertainment!
This production of The Sound of Music was directed by Jeremy Sans, with Michael Lloyd as MD and starring
Connie Fisher
and 
Margaret Preece
as Maria Reiner and The Mother Abbess respectively. Children's Musical Director is Ros Jones, with dance and vocal arrangements by the late Trude Rittmann.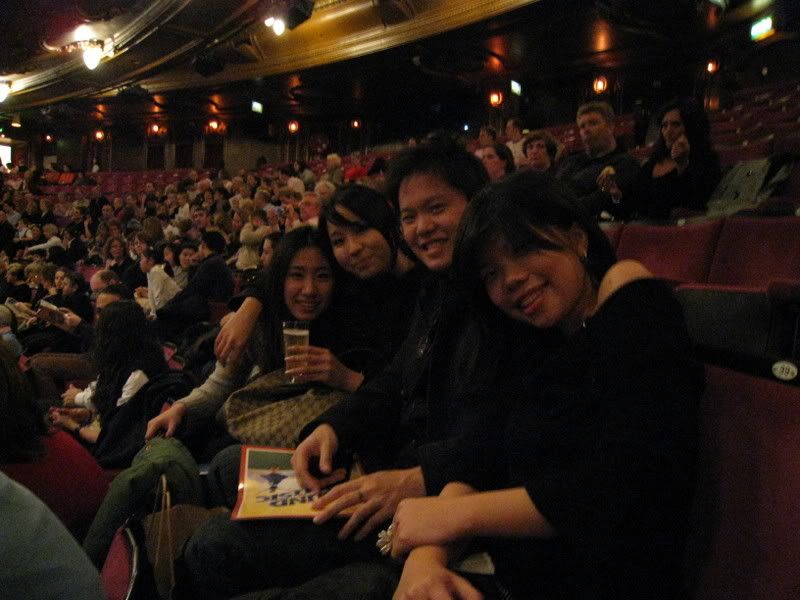 Foursome hitting the theatre!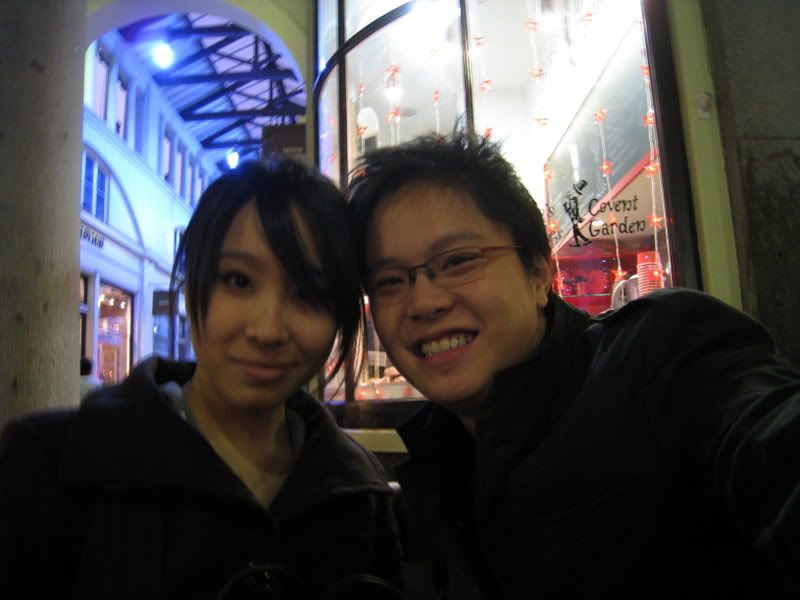 Monji & me freezing up at Covent Garden.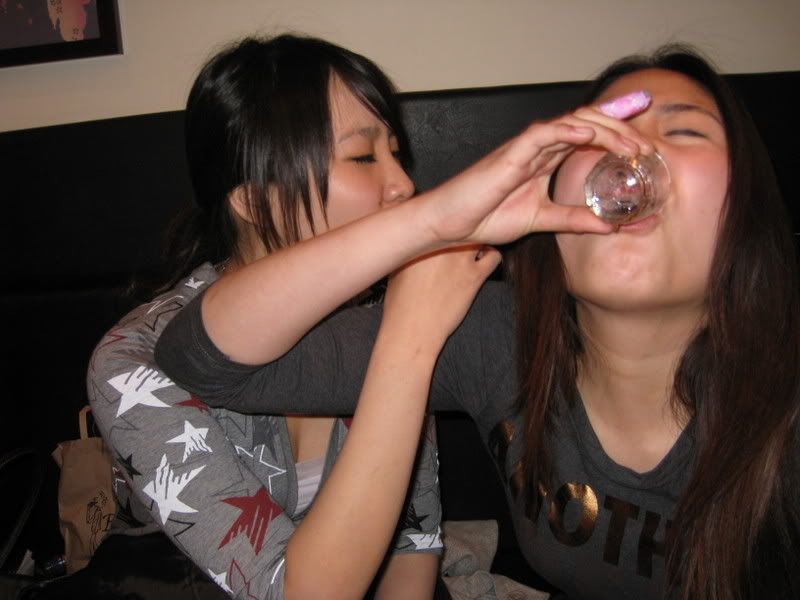 Bottoms up!

This morning Daph and I headed down to do something really touristy: visit
Madame Tussauds
! Naturally, the cameras came up soon enough and we starting snapping away crazily! I managed to get a
combo ticket package
which covered both Madame Tussauds and the
London Eye
. There're plenty, plenty of photos that we took here, so I've put them up on a separate Facebook photo album
here
at http://www.facebook.com/album.php?aid=31531&l=1d39b&id=650147024/.
Some highlights, though. Enjoy! Heh heh.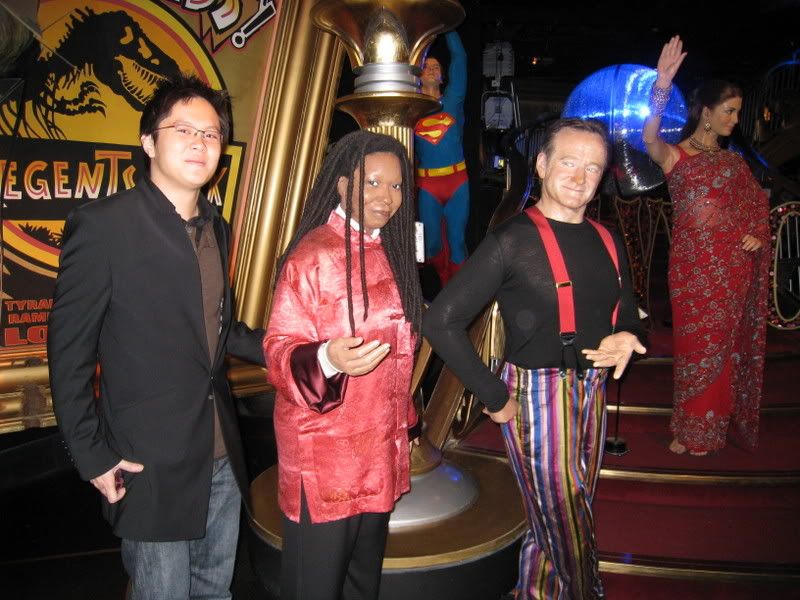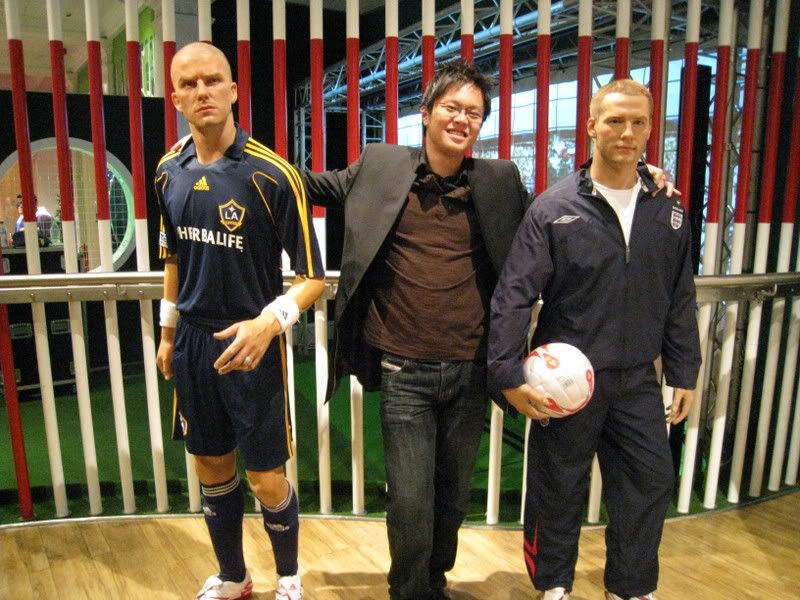 After a training session with Owen and Beckham.

Ok, I'm getting sleepy. This whole winter sunsets at 4pm business is really making me lethargic. Was supposed to go ice skating with Foi today, but I just asked her to postpone it. I'm way too tired! Might be going to watch
The Darjeeling Limited
tonight at Whitechapel with Daph, Mich and the rest. We'll see how it goes!