The weather has brightened up slightly, with day temperatures hovering between 5 to 7 deg C. It's been great being able to meet up with Monji and FoiFoi the previous day, where Foi brought us to this gorgeous place where she works for high tea. Really classy stuff!
The place was
The Landmark London
, an upscale 5-star hotel located right across Marylebone Train Station. Foi currently works in this lavish, luxurious hotel as a waitress, but for that day she, along with the rest of us, were guests!
Well, guests with plenty of privileges, I must admit. Her colleagues were really wonderful, nice people who really went out of their way to make our dining experience nothing short of regal. Of course, with
afternoon tea
menus ranging from £30 to £40, you could be assured of pristine, impeccable service and food quality! The restaurant is, of course, the
Winter Garden
, located right the middle of the hotel's 8-storey glass atrium.
We were spoilt silly with two free bottles of Rose Taittinger Champagne (for just the five of us), passionfruit martinis, mojitos (best I ever had), as well as high-grade cognac that cost, ready yourself, £51 per glass. Yes, that would be, erm, S$152 per glass. All was on the house, of course, thanks to Foi's very generous colleague and bartender.
After generous, repeated helpings of sandwiches, freshly-baked scones and French pastries, and not to mention a good deal of alcohol at 6pm, we were pretty stuffed. Ok, the group photo. Oh, I'll be posting up a couple more pictures when I get back. I'm using Daph's MacBook Pro now and I'm sorely unfamiliar with the interface. Click
here
and
here
for more photos of the afternoon tea.
That's the entire gang from L to R: Lee (Foi's colleague who also works at the Landmark), Patrick (who's doing his postgrad in nanotechnology at King's), Foi, Monji and myself!
Yesterday Daph & me headed down to Charring Cross to check out Trafalgar Square, as well as visit the London Artists Book Fair 2007 at the Institute of Contemporary Art. 'Twas my first time to an art book fair, as far as I can recall!
The book fair was pretty interesting, with independent as well as established artists, institutions and art societies are gathered in one place to put their best works on display. I saw quite a number of really, really impressive works. The works on sale very pretty pricey though, with most items starting from at least £5 for the really small stuff and up to £150 for the top-end, extremely limited works.
The
Society of Bookbinders
had their own exhibit, and I was pretty damn fascinated by all the creative and ingenious ways of carrying out the basic act of bookbinding. One even had the carton cardboard of an orange juice box as the cover! I got Daph a nice red leather-bound book, with a black leather strip as a clasp. I'm lazy to put up a photo of it though, heh. I actually quite like it myself but I suppose she'll definitely have more use for it than I do!
There was a project by this group called Map X Out that was taking place at the fair. This group is a gathering of four designers who use the concept of mapping to approach their designs and works. At their exhibit, they have a huge map where visitors are allowed to, using a certain approach and sequence, draw a series of lines that trace their present time and location, birth place, place of residence and the geographical location of the book fair itself (i.e., London) to form an intertwining myriad of lines and stickers.
You can visit their blog at
http://www.mapxout.blogspot.com/
for more information as well as to check on their work. Now that the book fair is over, their final result will be out soon; I hope I can still spot
my
line!
Ah, also, I managed to take a 360 degree photo as well as some night shots of Trafalgar Square whilst standing in the middle. Hope this works, check it out!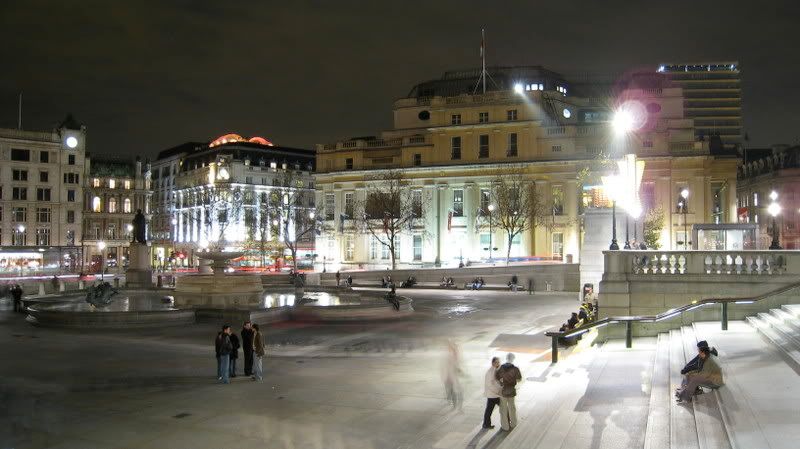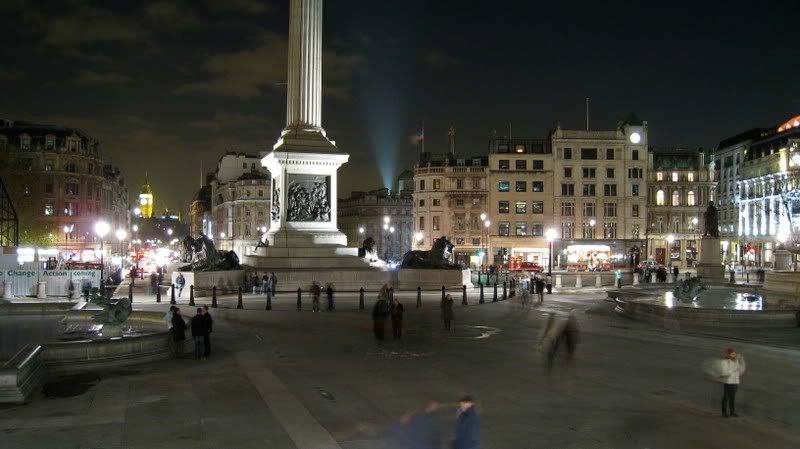 We also managaed to squeeze in a couple hours to check out
The National Gallery
at Trafalgar Square. This gallery, founded in 1824, houses a vast collection of over 2,300 paintings dating from the mid-13th century to 1900. It was quite surreal to see famous paintings like Holbein's '
The Ambassadors
' and Van Gogh's '
Sunflowers
' live, only a couple inches from your face.
You should have seen my reaction when I saw Holbein's famous work, 'The Ambassadors' from the lower right hand angle. The picture of the skewed skull painted in anamorphic perspective was so apparent and defined; truly fascinating!
Alright, I'm going rather nuts trying to work my way around Daph's MacBook Pro. I'm getting technologically unsavvy, I swear. Gonna head off now, meeting Monji for lunch in Chinatown in a bit! Hopefully we can catch Sound of Music tonight. More updates coming soon!