That's the stuff that art dreams are made of: a Paperchase boutique store that's not one, not two, but three stories high. Impressive, isn't it? Well, definitely stuff you can't find back home. Daph brought me to
Paperchase
today along
Tottemham Court Road
so she could get some art stuff for her art project for this week.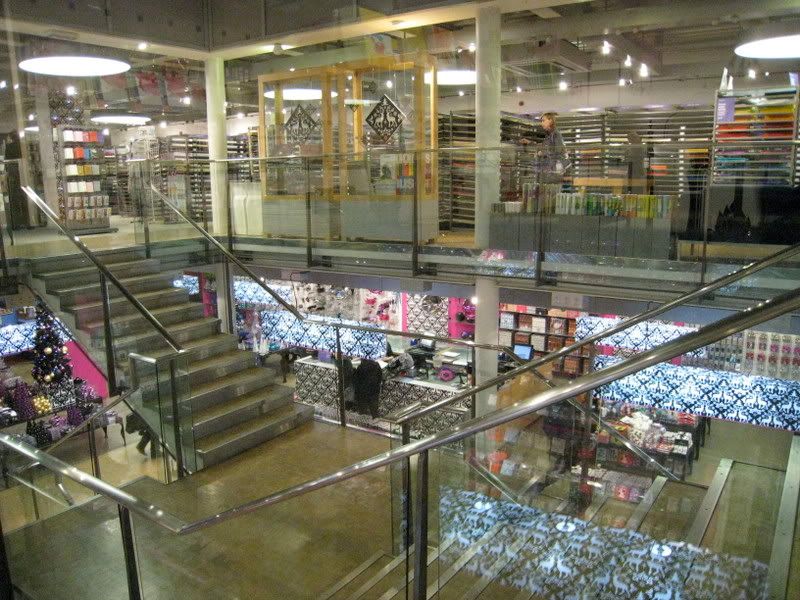 That's taken from the, uh, 3rd floor.

Everything you could possibly think of that's art-related, they have it. Christmas being round the corner, they also stocked up on numerous Christmas decorations and such, of which I got some to bring back for mom. If she's putting up the Christmas tree this year, that is. I got a couple, uh, balls and stars. Coated with lots of glitter.
Monji, you'd be glad to know they actually have a
Caffè Nero
in Paperchase itself, on the second floor. As well as at least two more Caffè Neros along Tottenham Court Road itself. I seem to be seeing everywhere ever since you started craving them on Monday. How strange, eh? And there are also two more on Oxford Street. Just in case, you know.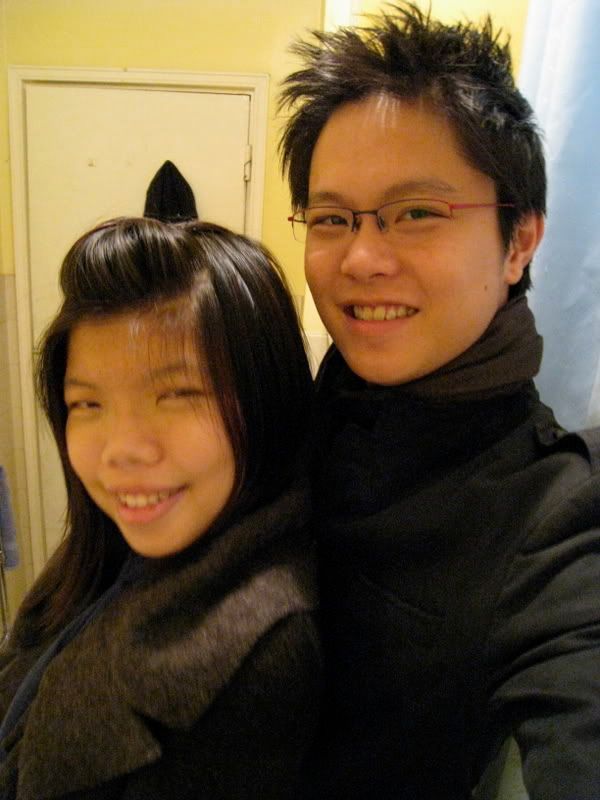 Oh, and just mostly for fun, here's a linear view of
Oxford Street
from Tottenham Court Road to
Oxford Circus
. This looks pretty handy, doesn't it? Click
here
. So let's see, Inn Noodle is actually quite a decent place to get your fix of la mian; Daph & me had dinner there today. Then there's
Waterstones
, the bookstore that looks like a library you could find in
Hogwarts
.
No. 143
houses Japanese-brand of cream puffs that's insanely popular in Singapore,
Beard Papa
. Haven't got any, yet. In fact, I've never tried any before. Heh.
No. 187
has
muji
, with all their very functional, utilitarian yet exorbitantly priced stuff. I'm still eyeing their £120 coat. Very nice.
On the other side of the street, there's
No. 100
,
GAME
. Yup, it's as self-explanatory as it gets; it's a UK-based video games retail company that sells loads and loads of video games. That's what I need: speciality! I do remember, however, stepping into the store excitedly when I was first here in September only to have the store clerk tell me, "Sorry mate, you can't buy anything in this store except for PSP and DS games due to
NTSC/PAL
restrictions."
Oh, great. Like who really, really buys PSP and DS games, right? Eh, Vik? Nic? Albert? Justin? Heh heh. I suppose browsing will just have to do, for now. Unless I get a PAL system Xbox 360 too? Hmm.. Anyway, it'll be Paris come this weekend. Which means we're leaving tomorrow night. And boy, am I all set for my very first
Disneyland
experience at 22. Oh, for the love of all things good, finally!