And welcome everyone to Sleepy Sunday once again, where the lethargy throughout the past entire week manifests as a alluring
FAIRY
(pronounced FAAAIR-RAEEEY) loaded with sleeping dust and visits you, offloading everything she's got on you. (Ok, this fairy in-joke is really getting out of hand but seriously, who can resist?!! Haha!!)
Went back to church after a two (or was it three?) week hiatus this morning. Friday evening at
Balaclava
was a usual affair, with the addition of
JCT
and Charles (his blog
here
) being really kind enough to pop by. JCT brought his new girl along as well; apparently she holds her liquor as well as Charles and Gina, so you get the picture. : ) In any case, thanks guys for coming down to support! Serene's boss was there too, so it was a good evening. The night ended in the indulging of copious amounts of wine, as usual! Oh, I also managed to bump into
Tanya
, who was with a brand new band that was trying out Friday's primetime slot at Balaclava (UnExpected took a break that week). It was good to see ya again babe! And many many congrats on getting into LaSalle-SIA (same to you too, Rayve!).
Yesterday, Gina introduced me for the first time to the wonderful world of Red Bull gelato ice cream! That's right! All that Thai energy goodness now comes to you in a refreshing sorbet gelato! Isn't it a marvellous invention? One of the best news since I've heard about
Uzumaki
's wasabi ice cream! (Ok, I haven't tried the wasabi ice cream, but the Red Bull once just totally kicks butt!)
And here's how absolute ecstasy looks like!
Well, I didn't say it was gonna be nice. : ) So there you have it. Grab your Red Bull ice cream right now at
Gelatissimo
, this gelato place right outside Shaw House (at the entrance of the escalators that you take up to the cinema) that comes all the way from
Australia
. They also have a ball of other really interesting flavors; one's definitely gonna hit that sweet spot of yours!
Oh, not forgetting, I finally caught another movie last night. Haven't been watching movies of really high caliber lately (previous ones include
Mr. Bean's Holiday
and
The Messengers
), but hey who cares? As long as the company is good, the laughs are there and the shock tactics still work (they ALL work for me!), why not? : )
Yesterday was Mark Wahlberg's latest action flick,
Shooter
. Directed by
Antoine Fuqua
(of
Training Day
fame), it was a pretty decent wham bam gun 'em down outing. Not forgetting that lovely
CheyTac Intervention
M200 featured in the film. It looked even hotter than Wahlberg's co-star
Kate Mara
! But of course, let's not ignore the abundance of leftist political undertones, shall we? So when you mix it all up you get something like that: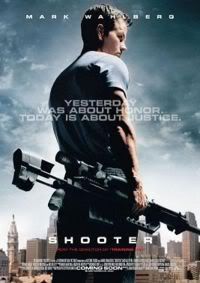 That's the "man-looking-emo-cos-he-got-double-crossed" face carrying a US made sniper rifle. Wow, how bold! Interestingly, there are two versions of the poster; one is him carrying a CheyTac Intervention (that's what you see
here
) and
another one
with him carrying a Remington 700. No idea why.
Oh, and before I go, here are some expired photos taken at Viva Verdi the previous Friday. : ) Thanks Charles!
Alright, so that's it for now. The FAIRY beckons and calls out to me, drawing me into her realm with her sweet song... : ) Happy Sleepy Sunday, folks!