Kids these days, they do have the knack for the good stuff. Evidently put, in this instance, when we look at this particular assignment: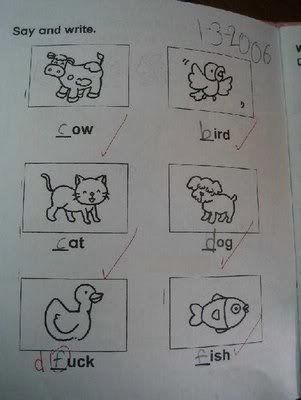 Definitely talent in the making!
In other unrelated news, I've managed to come across a fantastic website that does give a very different (and fresh) perspective of Singapore politics. Well, whether you love our dear leaders or not, it still makes a good informative read nevertheless. Click
here
to find out more.
It is also not much of a secret that Singapore's government is one of the, if not most, highly paid governments in the world. As can be referenced
here
, the President of Singapore enjoys a whooping annual pay of US$1.5 million; this figure doesn't include his entertainment allowance and Istana expenses. For a third-party article (just so we're not bias), check out this informative Wikipedia
article
.
Interestingly, right below the sub-chapter "Maintenance: The Civil List" (in the Wikipedia article) is the sub-chapter "Latest Election". This consists of a hush-hush, minimal description that goes, "The election of 2005, just like that of 1999, did not take place. After the government-appointed
Presidential Elections Committee
had disqualified all other contestants,
Sellapan Ramanathan
was declared president." I don't even know how to respond to that!!
Oh well. Long live democracy!