Eat, eat, eat. Don't we all do that when we're on holiday? It's just that insatiable appetite which you just can't seem to fight against. Your body calls you towards chic restaurants, endless buffet lines, exotic fast food...
Ok, fine. I was just trying to come up with an excuse so I could post this picture:
That's right, put that powerful little sign on your table and you have unlimited access to dim sum heaven! We had dim sum buffet lunch today at this place called
Dragon Boat Palace
, and trust me when we emerged from the restaurant we weren't sick because of the rough waters (ok, lame!!) but because of overeating!
Oh, I managed to capture a guidebook-looking shot today. Another one for the collection! Look at how the juxtaposition of modern and classic architecture signifies Melbourne as a one-stop cultural center of both old and new; a melting pot of diversity.. BLAH BLAH.. haha!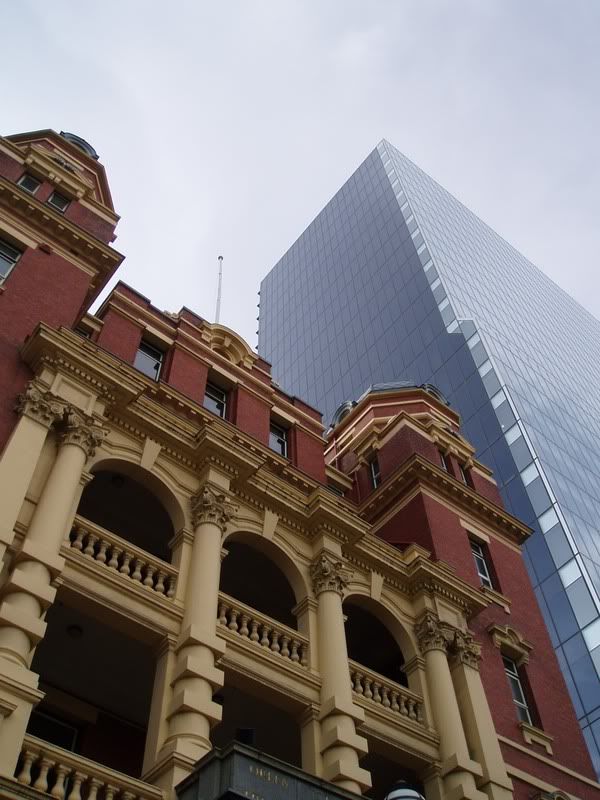 Oh, and finally,
Miss Saigon
! Finally, after missing so many of its tours I get to watch it here! Had a really great time painting the town and hitting the theater, soaking it all up. The A Res tickets were slightly pricey but completely worth it, and we had a really good view from the dress circle as well. The show was exceedingly fantastic, no doubt to associate director and friend
Darren Yap
(who's done it again!) and a stellar performance by RJ Rosales.
Sigh.. this really brings back all my
MOL
days. Those times spent in
UCC
's rehearsal studio workshopping and rehearsing till the very day before my enlistment. How fast one year flies! Those were really good times indeed.
Makes you think how delicious it would be to see
Lea Salonga
play Kim live, huh! Heh heh. In other news (and not strangely enough), on our way back we couldn't resist taking even more self-absorbed shots of the public purse on
Bourke
. Sitting there invitingly all by itself, it's just dying to get its photos taken!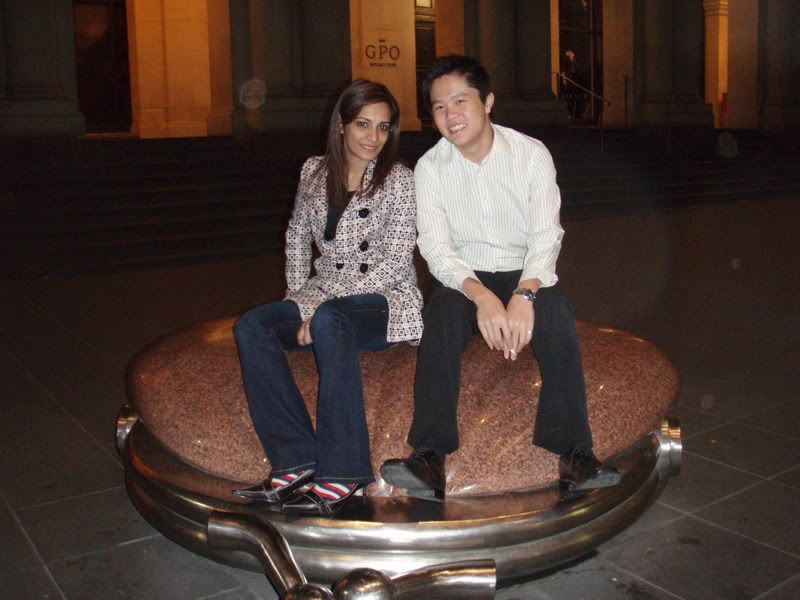 Dee dee still unwilling to relinquish those $1,000 chips inside!
The three stooges calling it a night!

"You are sunlight and I moon
Shared by the Gods of fortune
Midnight and high noon
Sharing the sky
We have been blessed,
You and I"
- Sun and Moon, Miss Saigon